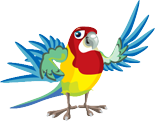 In the classroom, you can activate games of your lesson plan by clicking on certain objects in the room. Each object represents a different game.
Games build on each other. The memory game is to learn to read the basic notes on the stave. In the revision game you try and read in a race against the clock. The Rocking Rhythm game adds beats to the notes. The Clapping Clown game helps you read the beat of the music. Once you are familiar with reading you can try writing wriggles to test your skills in matching up notes in real music.  Try out Nifty Composer and write your own!
Try clicking on the piano for the Memory Game.